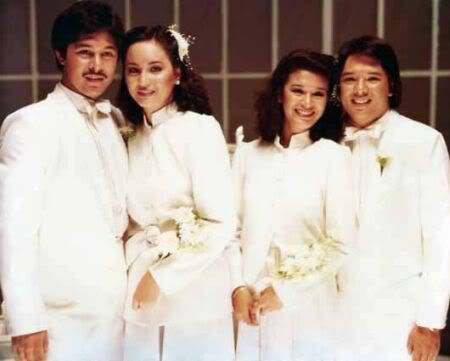 Christopher de Leon, Charo Santos, Sandy Andolong and Jay Ilagan in Mike de Leon's Kakabakaba Ka Ba? (Does Your Heart Beat Faster? Mike de Leon, 1980)
Filipinos love to dance; even convicted Filipinos love to dance, and dance well--you only have to see the occasional
video clip
CNN plays, of orange-clad convicts from the Cebu Detention and Rehabilitation Center dancing to pop tunes (the choreographer is an accused mass murderer) but strangely enough there aren't a lot of noted Filipino films that feature dance, or at least notable filmmakers making musicals that include dance.
There are early musicals, like Carlos Vander Tolosa's Giliw Ko (1939); problem is the surviving print is in wretched condition (even after restoration by The Philippine Information Agency and the National Film and Sound Archive in Canberra), and what little song and dance I do see in it is, well, of interest, but not quite inspiring. Comedy team Tito, Vic and Joey have done dance numbers; so has comedian Dolphy, among many others. Lino Brocka did Stardoom (1971), a showbiz melodrama full of singing (only the melodrama--a Jacobean struggle between two brothers (Mario O'Hara and Dante Rivero) is more interesting than the music); O'Hara's own
Kastilyong Buhangin (Sand Castle, 1980)
features singing (you can sense that O'Hara actually gets into his song numbers--gives them genuine emotional heft), and fight sequence so gracefully done I'd argue they are dance numbers (and for a while was tempted to write about them as such).
But an honest to goodness dance number, in an honest to goodness musical, one that I actually like? None, off the top of my head, except, of all people, from the forbidding dark genius of Philippine cinema,
Mike de Leon
. The filmmaker responsible for such grim masterpieces as Itim (Rites of May, 1975), Batch '81 (1982) and Kisapmata (Blink of an Eye, 1981) did Kakabakaba Ka Ba? (1981), a demented caper comedy involving Yakuza gangsters smuggling an audiocassette tape full of opium into the city of Manila and eventually to the northern city of Baguio, for processing and eventual distribution throughout the Philippines.
The title itself--often translated as Does Your Heart Beat Faster?--is literally untranslateable, a play on the present progressive form (at least I think it is) of the Filipino word kaba, meaning 'worried' (literally: 'worrying'), with the final ka ba? being a pronoun and a verb (the term as a whole literally translates as 'Are you worrying?'). For a Filipino, just reading the title brings a smile to the lips; by the time he's explained it to a non-Filipino, of course, all the fun's been drained out of it.
I remember talking to one of the writers, Racquel Villavicencio (
Init sa Magdamag (Midnight Passion, 1983)
); she told me that de Leon had provided her and Clodualdo del Mundo (
Maynila sa Mga Kuko ng Liwanag (Manila in the Claws of Neon, 1975)
) with the basic story, which they in turn built up into a complete screenplay, often with de Leon's guidance. She notes that the original concept was much darker, with more satire of the Catholic Church, more emphasis on the drug subplot. Of the three de Leon films she collaborated with del Mundo and de Leon on (the others are Batch '81, Kisapmata), this is her favorite, partly because she contributed so much of the humor (she was also reportedly crucial to providing the woman's point of view in the writing of Kisapmata).

The end result is--well, it's not the funniest Filipino film ever made (there are Dolphy films that are much funnier), but I think it's the subtlest, wittiest, and arguably most demented. The tape is smuggled through an unexpectedly (and unbelievably, for anyone who's actually had to deal with them) Philippine Customs by a hapless innocent bystander (Christopher de Leon) and his friends (Jay Ilagan, Charo Santos, Sandy Andolong); along the way, they tangle with the Chinese mafia (led by the imperious Armida Siguion-Reyna), a mysterious priest with a painfully loud crick in his neck (Leo Martinez), a legion of sweetened soybean vendors, an intimidatingly porcine woman wrestler, and more.

But what makes the film--for me, anyway--is the scene where a flock of nuns waddle, penguinlike, into a common room. They hum a worshipful hymn; they crowd around one nun (the rotund Nanette Inventor), who looks up, heavenward, while an organ plays sonorously. Suddenly, a crash of chords; the camera plunges down on the ring of nuns, who shake their hands at the lenses; Inventor lifts her habit, revealing a fishnet-stockinged, voluptuously curved leg; the nuns promptly launch into a no-holds barred rendition of Bigyan Mo Kami ng Tinapay (Give Us Our Daily Bread).

The choreography isn't anything special--standard Broadway fare, with a few moves borrowed from some Vegas chorus line--but it's such a superbly timed joke (and de Leon's films are all about superb timing) that even when you know it's coming (and the joke anyway is obvious and labored) it still sends tingles up one's spine. It's one of the strongest expressions of de Leon's cynicism (which surfaces more often than one might think--in brief moments in Batch '81; in short form in Aliwan Paradise, his sequel to and satire of Maynila sa Mga Kuko ng Liwanag (this being the film that cemented his reputation as a visual artist (he was Maynila's cinematographer), he was effectively biting the hand that made him (then again (and de Leon is all about jokes within jokes), he's biting his own hand, since he was Maynila's producer as well); in
Bayaning Third World (Third World Hero, 1999)
). It goes hand-in-glove with de Leon's suspicions that the Catholic Church is the biggest show around, full of glitz and lights and music and not much else (the song's repeated request for immediate sustenance is implicitly answered by the arrival of the smuggled opium (as in: for the masses)). It fits in with the overarching theme found amongst de Leon's films, that the quotidian surface of Filipino life conceals a teeming, often decadent, often perverse underworld, ready to be revealed at the rise of a skirt. The number may lack production values, but more than makes up for them with a keyboard-banging melody, and the exuberance with which the ecclesiastical performers belt it out.
The film continues on to have a rousing finale involving the Chinese Mafia, the Japanese Yakuza, the dancing nuns, de Leon (Christopher, not Mike) and his intrepid friends, eyepopping sets (by Ms. Villavicencio) reminiscent of James Bond movies and the Academy Award ceremony, a samurai sword duel, the arrival of the ever-slow but always sure Philippine Constabulary, and, of course, a happy ending with two simultaneous weddings, backed by a full symphony orchestra. The ending is a happy mix of melody and lunacy, but it's that one number (Bigyan Mo Po Kami) that I'll remember--that sense of serene sanctity, punctured by an overstuffed pair of fishnet stockings. I can see in my mind the priests in the theater audience gasping in shock and outrage, their eyes glittering in the enfolding darkness.

(Kakabakaba Ka Ba? is available on dvd, along with other Mike de Leon films. Am not sure if they have subtitles--which is more than enough reason to strike an acquaintance with a Filipino, lure him into one's home (an offer of dinner--and real dinner, please, involving meat and plentiful carbohydrates, not some Caucasian notion of cocktail finger fare--might help), and ask him to perform benshi duties. That, or learn Tagalog. Anyway, Mike's such a visual director, his films are worth buying without subtitles...)